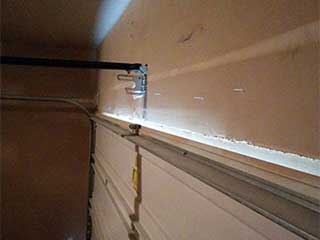 The springs on your garage door are intended to stop the door from slamming open or shut when you let it go, they're also intended to make the door easier to maneuver. These springs can hold a great deal of tension in their coils and are bound to wear and weaken over time. When your spring gets old and tired, it may snap. When this happens, your door will become unusable until the spring gets replaced.
Don't Take Risks
Torsions and extension springs are dangerous components to work with. If they are handled and applied with improper technique, the force they generate can be extremely harmful. There are a number of videos and tutorials online that explain how to attempt the process, but if you have no training or experience, the process is always going to be a huge risk. Our technicians are highly trained to repair all designs of garage door spring and will know exactly which models are best for your particular door. We strongly suggest you contact our expert team to take care of the repairs for you in a safe manner and according to a timeframe that suits you.
Fixing Door Springs
The experienced members of our team have replaced many kinds of garage door spring, used in all kinds of different garage doors. We can provide full troubleshooting of any issues relating to your door and will ensure we fix all the parts threatening its operating functionality.
Contact Us Today
If you suspect a problem with the springs on your door, contact our friendly team now and arrange for one of our technicians to come and help you right away. Avoid risks and get one of our professionals at Garage Door Repair Santa Clarita, CA to take a look for best results!
You can also count on us for:
Part Replacement & Repair
Opener Sensor Replacement
Garage Door Cable Replacement
Roll Up Garage Door Services