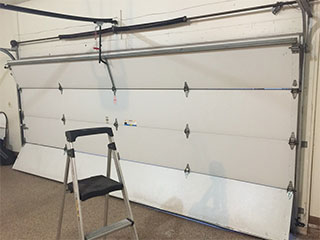 It's important that you make sure your garage door stays in the best shape possible. Apart from the added benefit of optimizing its performance, the more pressing issue is making sure that it stays safe to use.
What Could Go Wrong?
In two words? A lot. These complex systems are comprised of many different moving parts, all of which can gradually suffer from wear and tear damage. Springs can experience miniature fractures that will eventually compromise their ability to support the weight of your door. Safety sensors can become misaligned, or their lenses can get scratched, which can prevent them from detecting an obstacle in the door's path, leading to property damage, or worse, bodily harm. That's why maintenance is so important.
Ensuring User Safety
The best make to make sure something is working correctly is have it professionally inspected on a regular basis. Our professional technicians will do more than that, of course. They will test out the functionality of your system, making sure that every single one of its safety features is working correctly. We also perform a complete examination of the door's moving parts to make sure they haven't become too worn or damaged. If a part is showing warning signs, we'll replace it on the spot.
Improving The System's Performance
Aside from making sure your system stays safe to use, our specialists also apply special lubrication to the rollers, hinges, springs and tracks. This helps the door operate more smoothly, and ensures that it's able to function with less effort.
Call Us Today
The best way for you to make sure your door stays in an optimal shape – in terms of both safety and functionality – is to contact our experts at Garage Door Repair Santa Clarita. Aside from being able to repair every type of problem, we can prevent a fair share of them from even occurring by routinely performing our special maintenance routine on your system.
We also offer:
Garage Door Tune Up Services
Door Opener Troubleshooting Services
Broken Garage Door Spring Replacement
Garage Door Off Track Repair